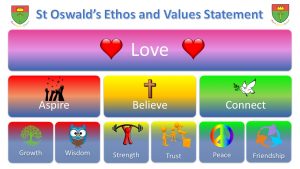 Jeremiah 29:11 – "For I know the plans I have for you," declares the Lord, "plans to prosper you and not to harm you, plans to give you hope and a future."
Background
Our Ethos and Values Statement is an easy to understand model of for collective worship in St Oswald's. Children in our school know that love is the most important value of all, in line with the new command that Jesus gave us to love one another, which is why this is placed above all in our statement.
Mission Statement
Sitting below love lies our school's mission statement: Aspire, Believe, Connect. As easy as A, B, C, this statement is easy to remember and most importantly represents what we want our children to do in every aspect of their worship, education and lives.
Core Christian Values
The mission statement is underpinned by six core Christian values that each link to one aspect of Aspire, Believe, Connect. As children aspire to be the best they can be in every way, they will grow in wisdom. In order to believe in themselves and develop their own beliefs about the world around them, our children are taught about the importance of trust and strength on their journey. We also believe in the values of peace and friendship in helping us to connect with those around us. The values were chosen from the main fifteen Core Christian Values (http://www.christianvalues4schools.org.uk), with the exception of growth which was discussed with Bishop Paul when he came to visit us at St Oswald's.